A few weeks ago Bryce and I went to Italy and had the most incredible time! We spent the first 5 days of our trip in Ravello. Neither of us had ever been but we had heard great things and wanted to experience it for ourselves. My friend Kara who I have known for 14 years planned this portion of our trip for us and I knew I was in the best hands. She is a luxury travel agent and has planned several trips for me in the past and they always exceed my expectations. We wanted to be able to relax, get some sun, eat great food, and shop. If you need an amazing travel planner, she is your girl. https://karaslatertravel.com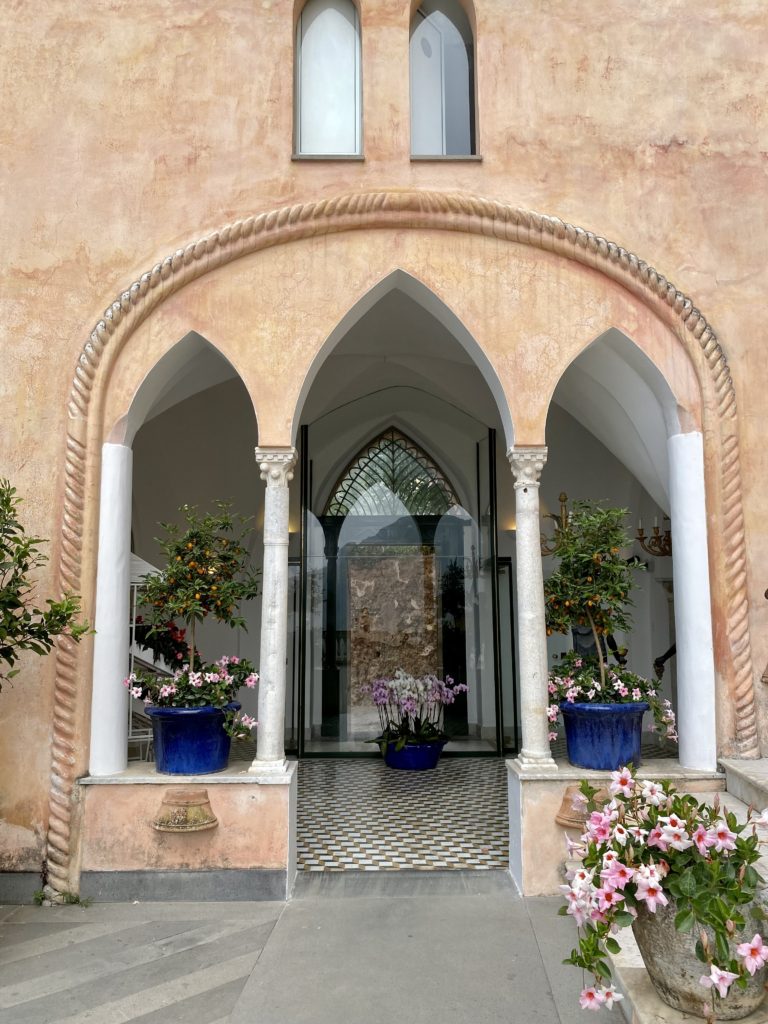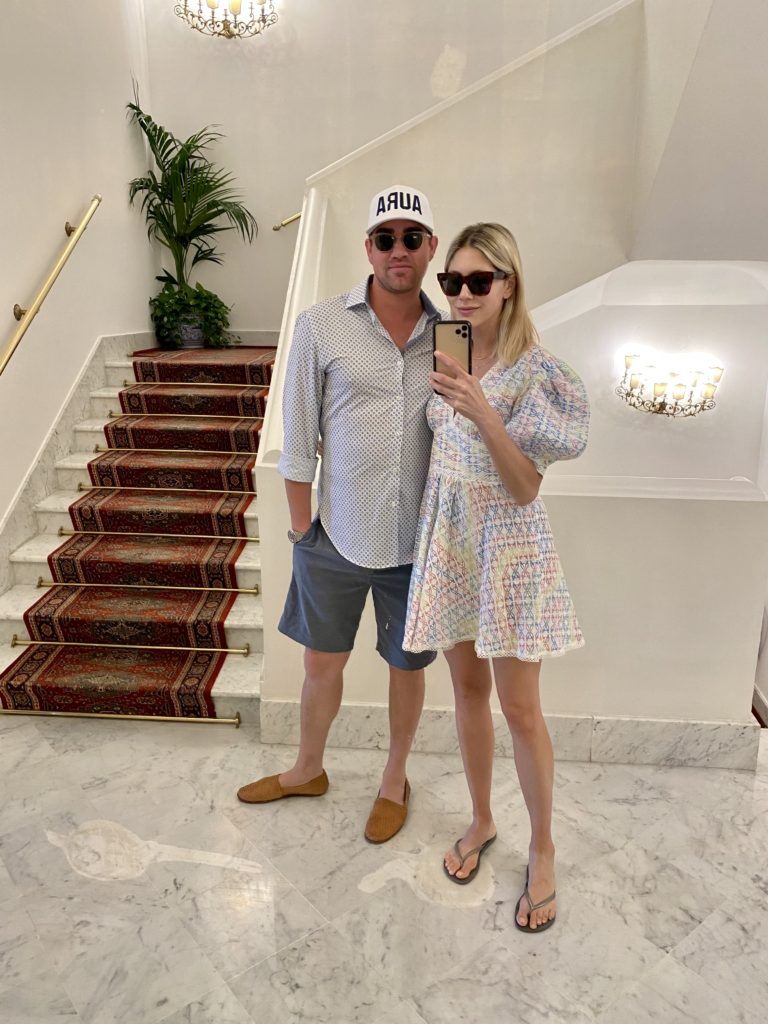 STAY
We stayed at Palazzo Avino which was amazing. It is a luxury boutique hotel with excellent service, a beautiful view of the coast, amazing restaurants on property, and a super chic boutique. They also are the only hotel in Ravello with a private beach club, called "The Clubhouse by the Sea" and it is just a 15 minute ride away from the hotel. They provide transportation to and from the club and it is such a beautiful spot. The beach club has a great restaurant as well and I highly suggest the club sandwich or Margherita pizza! One of my favorite things about the hotel, aside from how beautiful it was, was the quality level of service. The entire staff is so friendly and welcoming and made our stay perfect.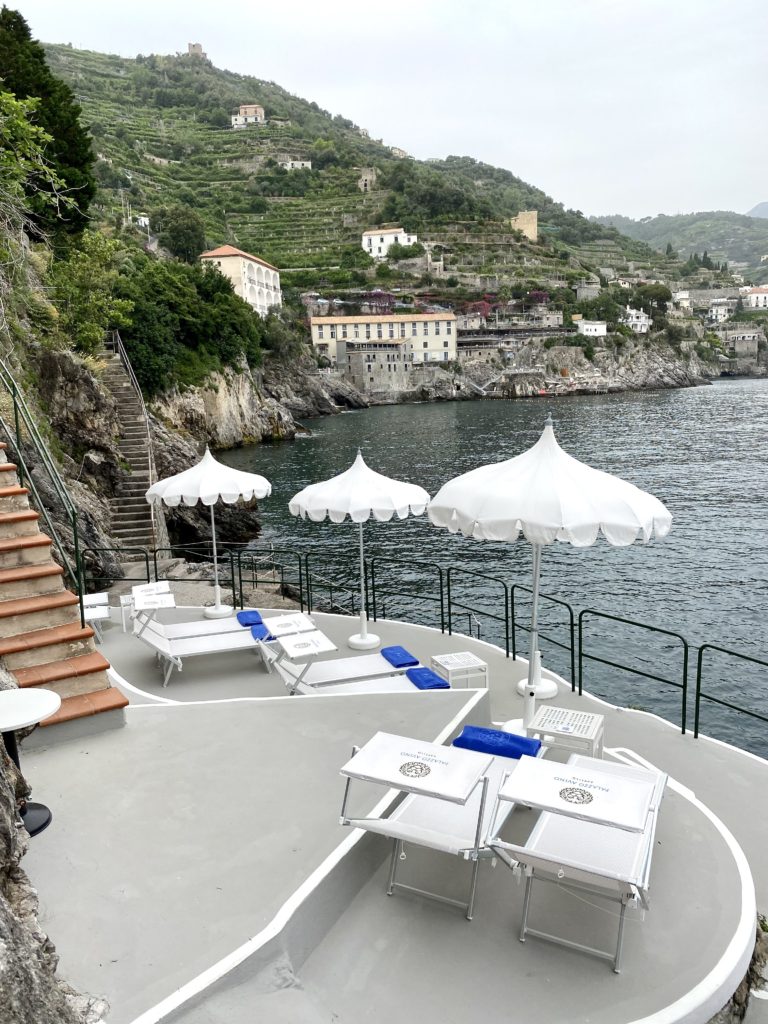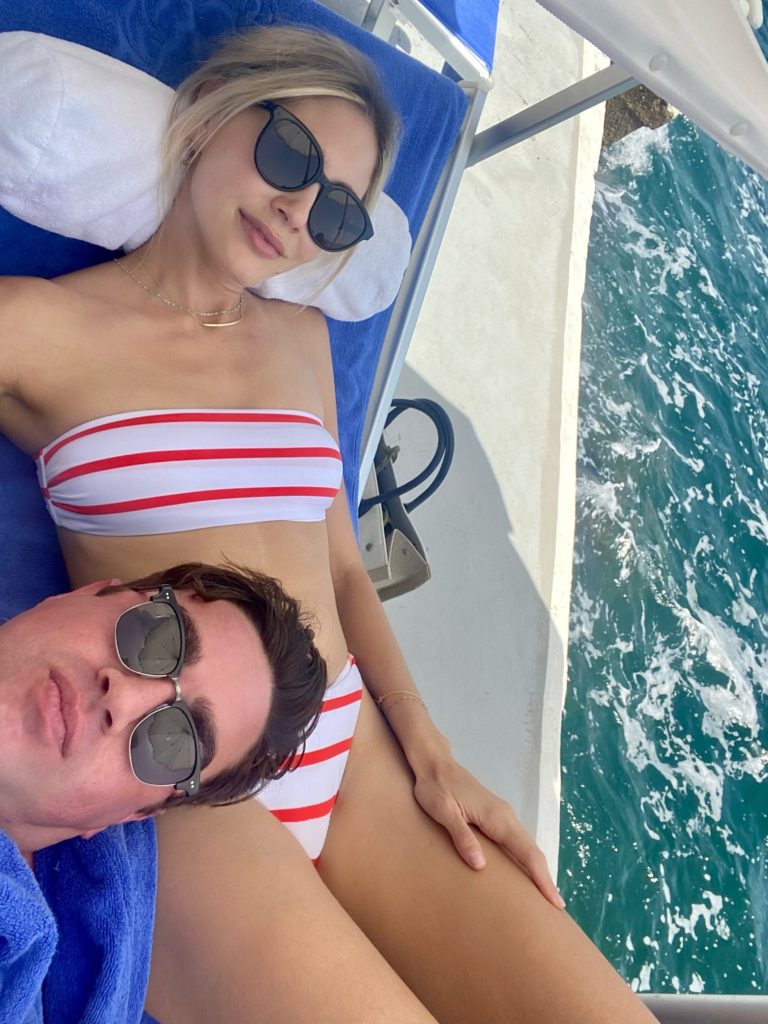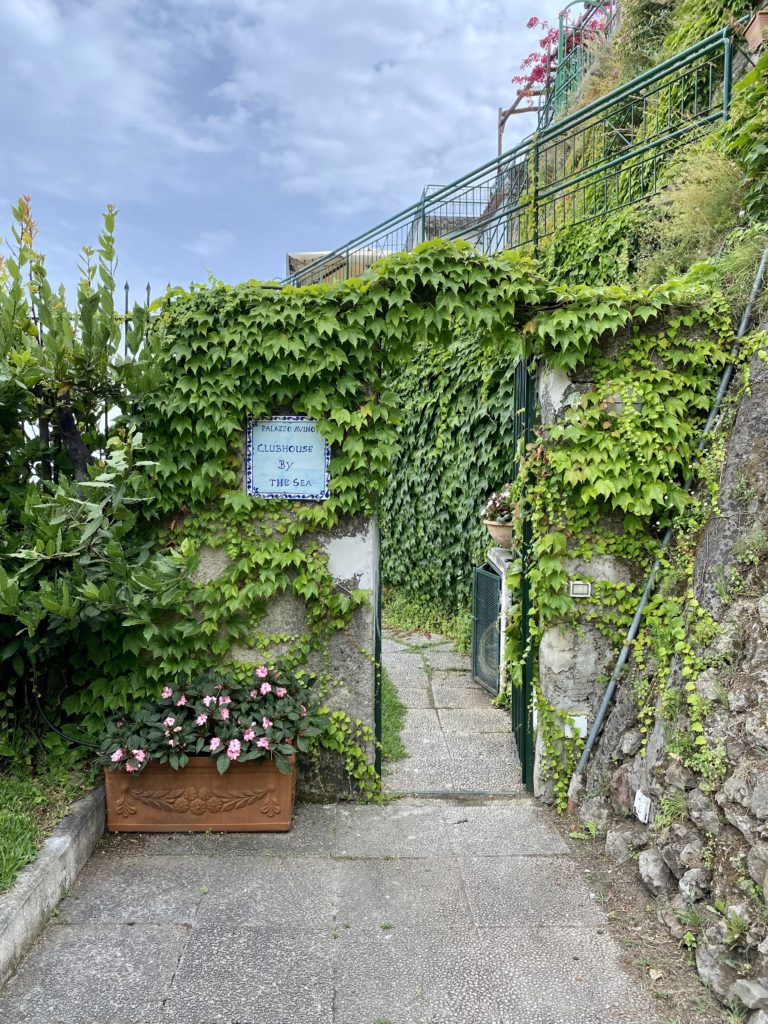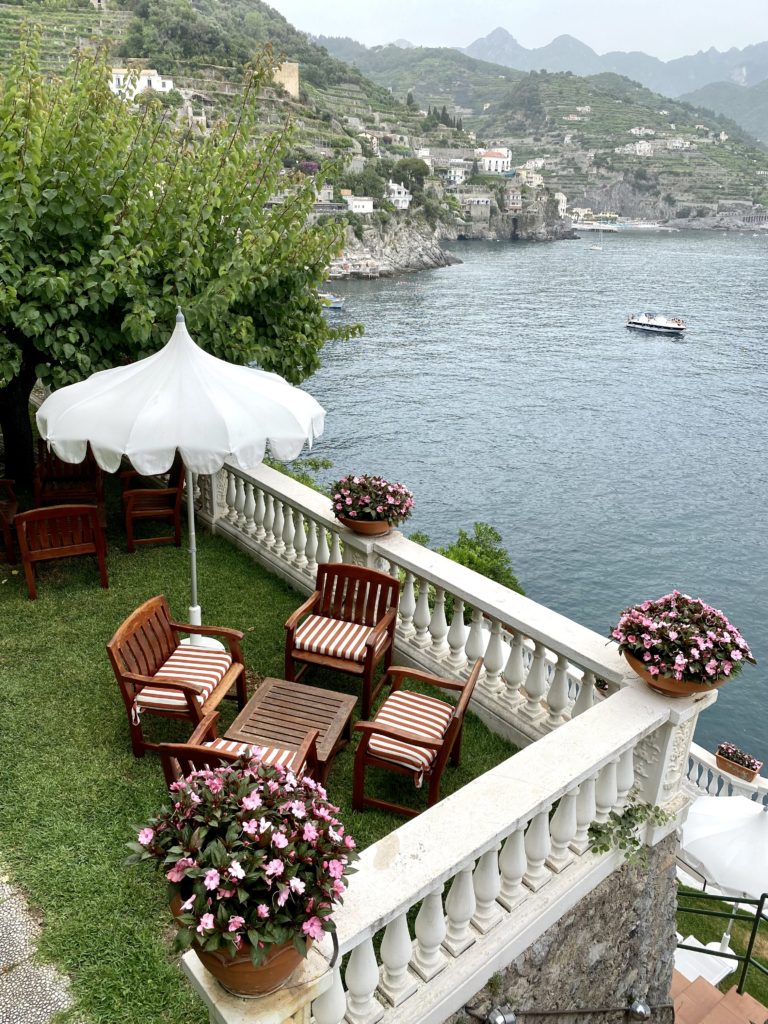 EAT
The Terrazza Belvedere– This is the more casual restaurant at Palazzo Avino and we had dinner here our first night. We were both exhausted from a long day of travel and this was the perfect spot to grab a bite to eat before going to bed and sleeping off the jet lag. They have a great selection of pasta dishes.

Cumpa Cosimo– This is one of the oldest restaurants in town and has been there for 100 years! Mama, the owner, is such a treat to meet. She is an older Italian woman in her 80's that wears a flower in her hair and she is hilarious. Bryce and I are both not big eaters and always love splitting things but mama wouldn't have it. She told us we needed to eat more so we ordered the fish of the day and spaghetti with meatballs. There was so much food there was no way either of us could even begin to make a dent and mama kept walking by shaking her head at us. Apparently we either weren't eating fast enough or we weren't eating enough! It was such a fun experience and the food was incredible and a must go to when in Ravello.

Rossellini's– This is a Michelin star restaurant located at Palazzo Avino and was probably our favorite dining experience. We started off in the garden area having an aperitif and a few light bites while watching the sunset. Then they moved us to our table where we had a delicious 6 course meal. The nice thing about each course was that they were all one or two bites so it ended up being the perfect amount of food.

Da Lorenzo– This was a short 5 minute car ride up the street and such a great spot. We started off at the bar having a cocktail before dinner and the mixologist bartender was so talented. He could literally whip up anything and my favorite part is that everything (minus the alcohol) that he used for the drinks was grown in their garden. When we moved to the back patio, we ordered a fish and a pasta dish and they were both amazing! We ended with tiramisu that was fabulous. Note to self, this restaurant does not accept Amex so make sure you have an alternative form of payment instead. Luckily we had happened to have enough euros with us since that was the only credit card we brought!

Salvatores– We went here on our last night in Ravello and the owner could not have been nicer! This was walking distance from the hotel and we had the best cacio e pepe! There were several people there that had literally come to Salvatores 3 nights in a row and apparently do that every trip they take to Ravello and have their own requested tables.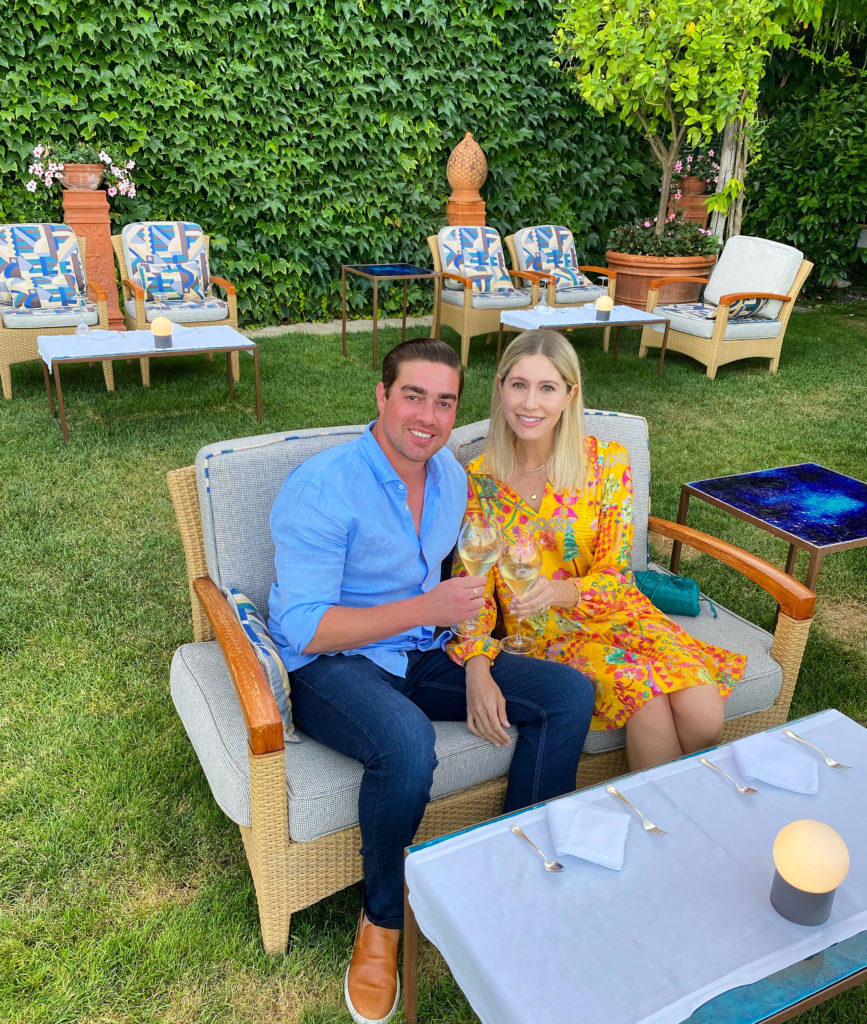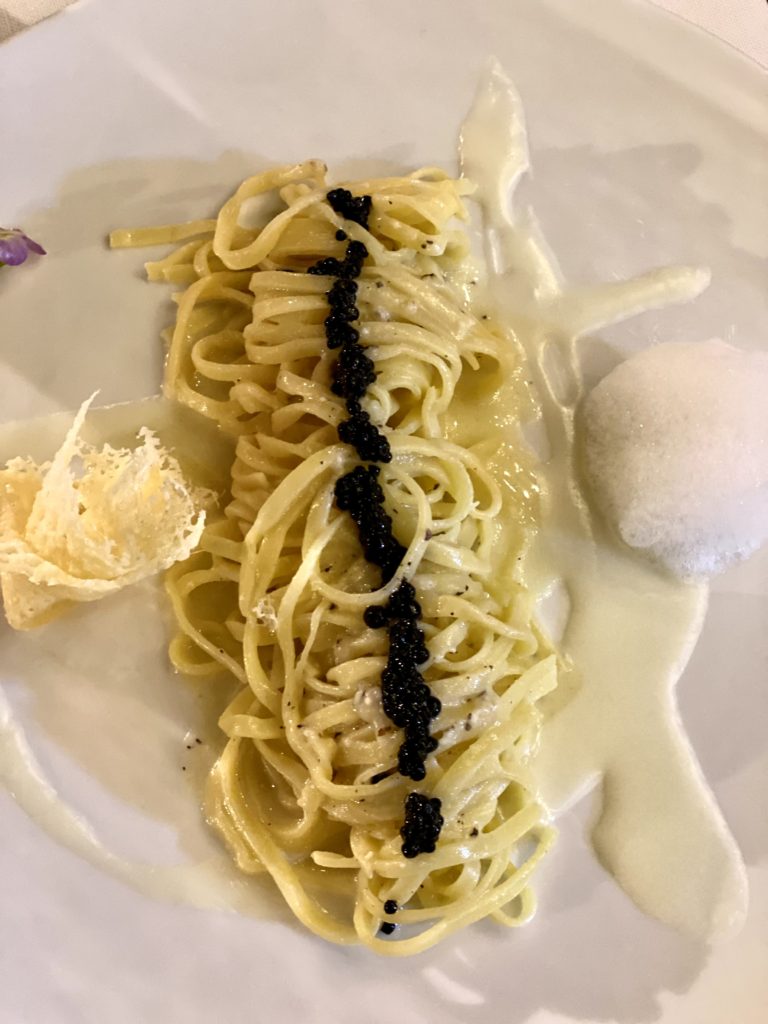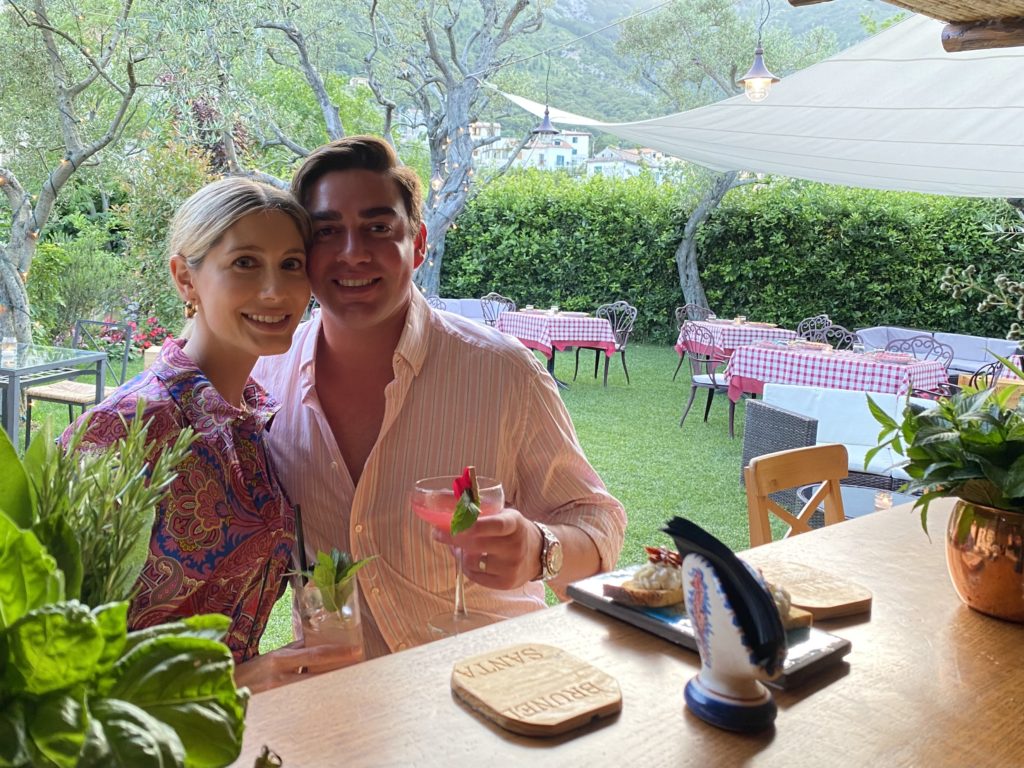 DO
Every day we sort of had the same routine… We would get up and have breakfast at the hotel. We would proceed to eat like 6 croissants each (plus everything else on the menu) and then head out to the beach club. We would lounge most of the afternoon, have drinks and a little nibble for lunch from our lounge chairs, and take dips in the ocean. We would get back to the hotel in the later afternoon, shower and get ready, and then have a drink at the Martini Bar at our hotel. Fun fact: they have over 100 different types of martinis on their menu. Then we would head off to dinner and that was how we spent most days. We also spent one day shopping in town which is also walking distance from the hotel. They have so many cute shops with beautiful linens, glassware, dishes, and clothing.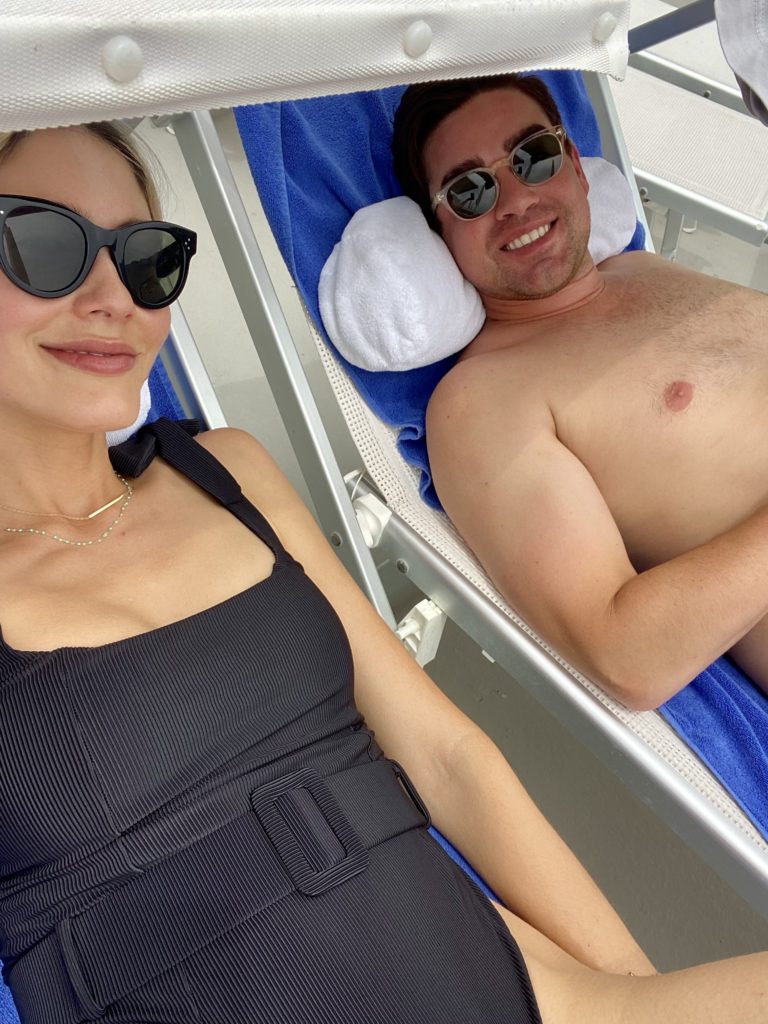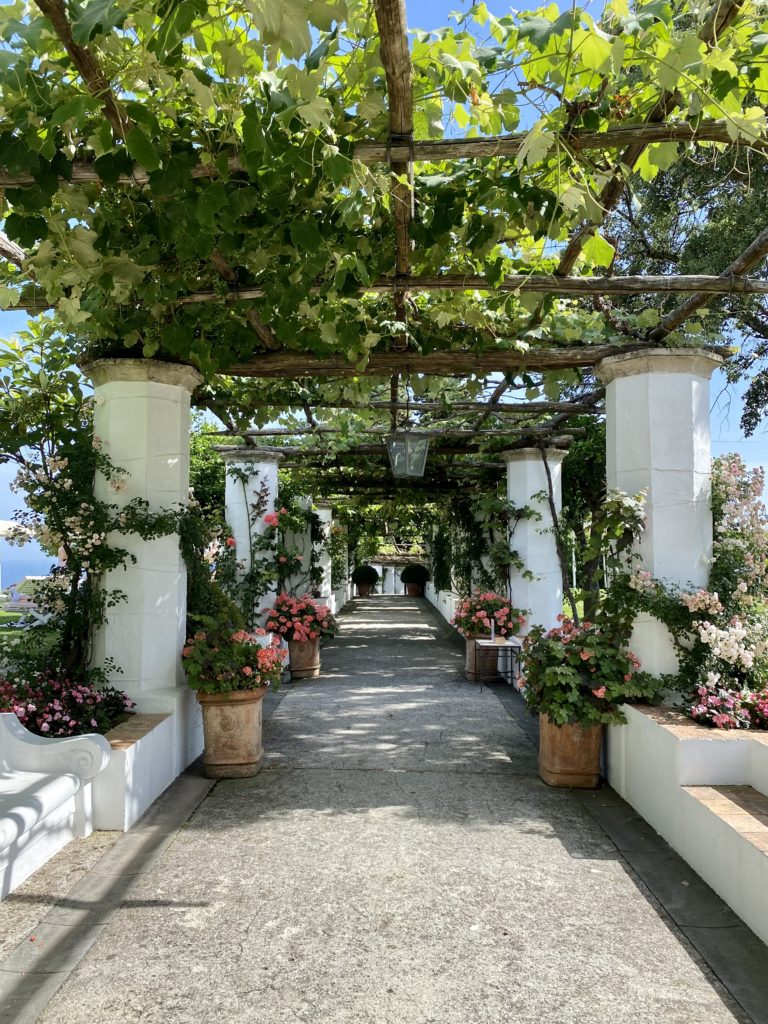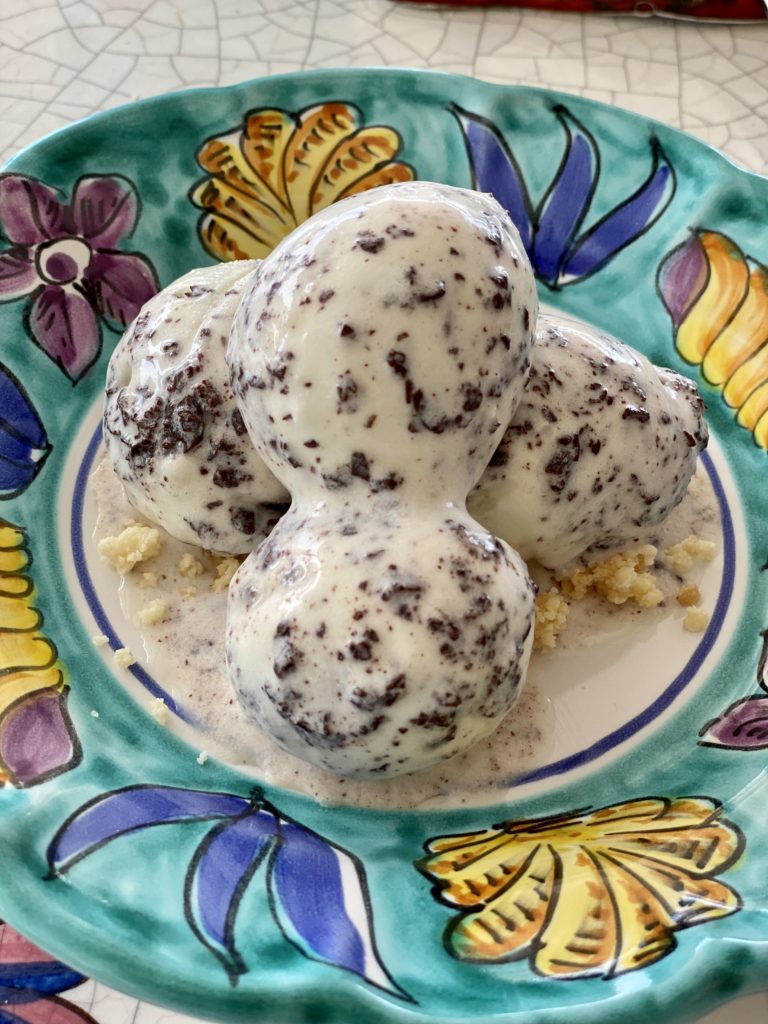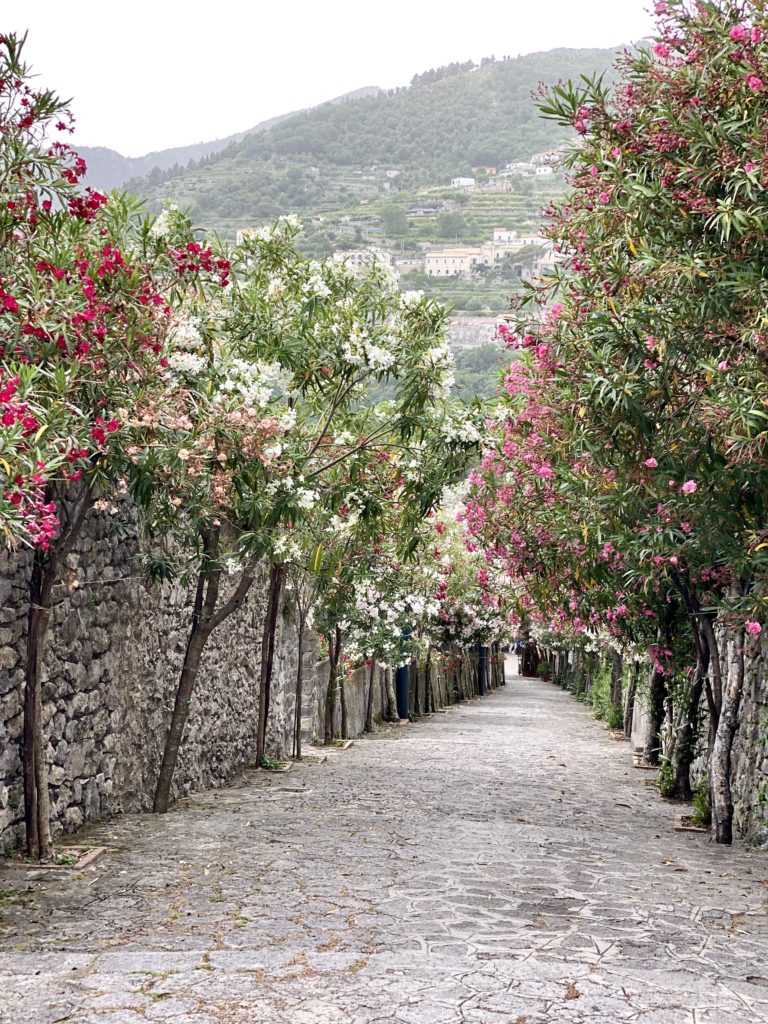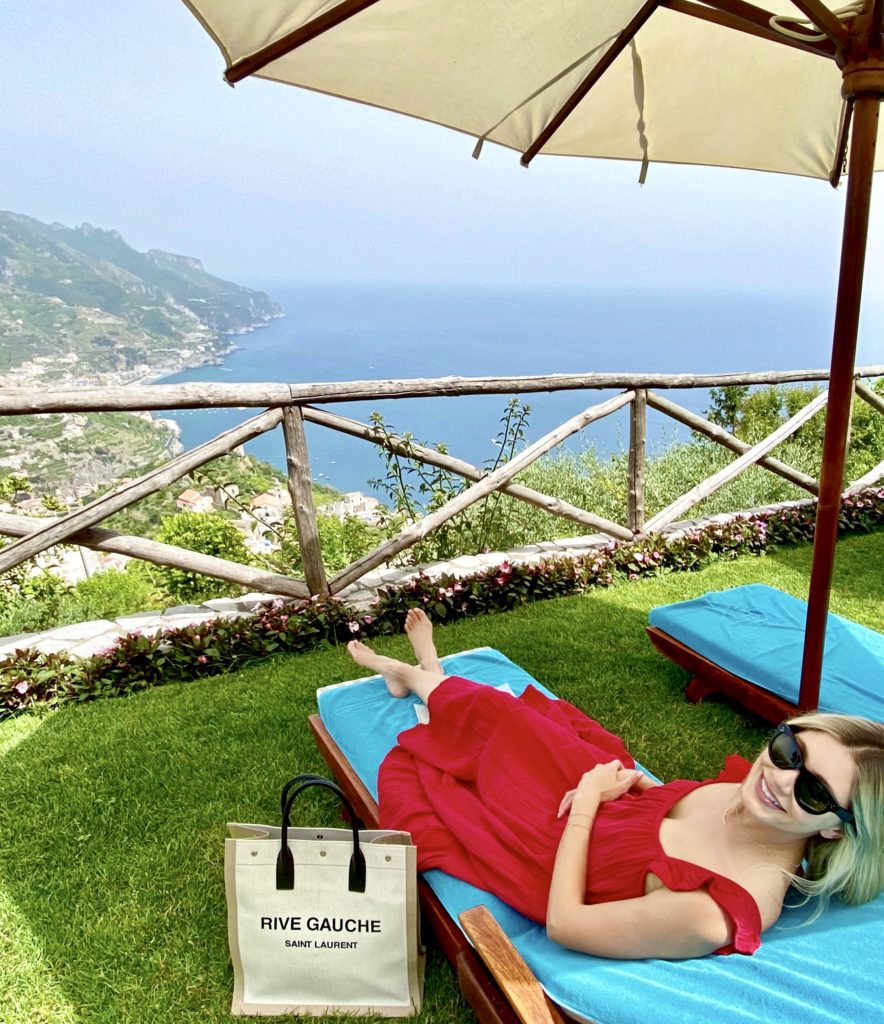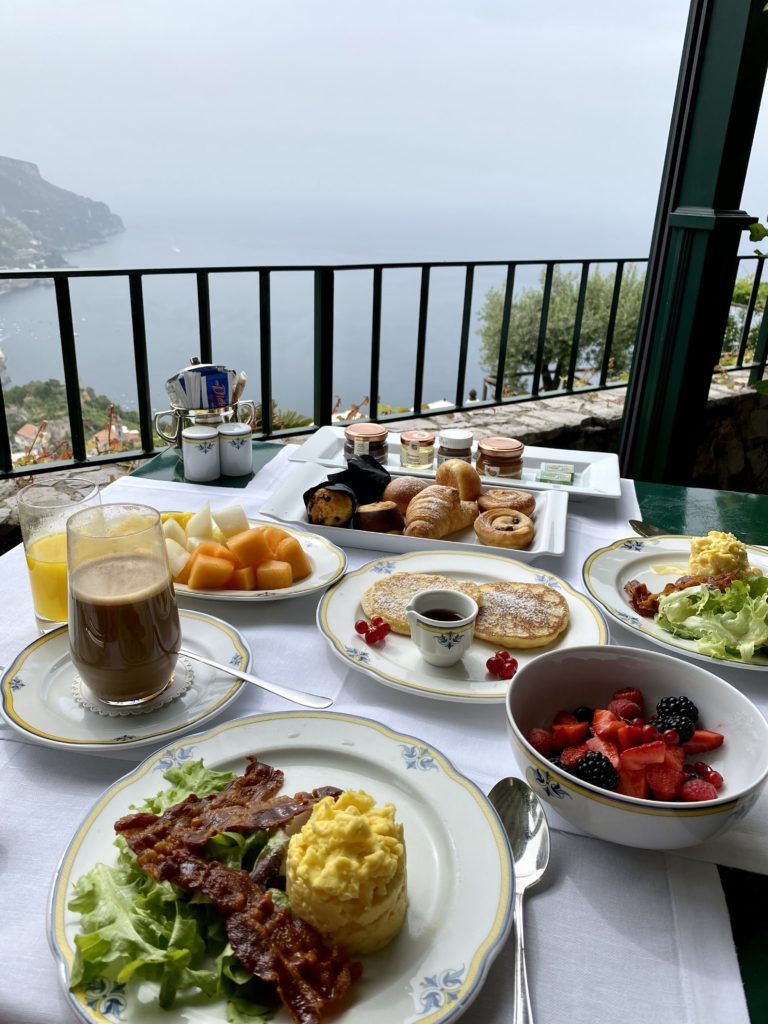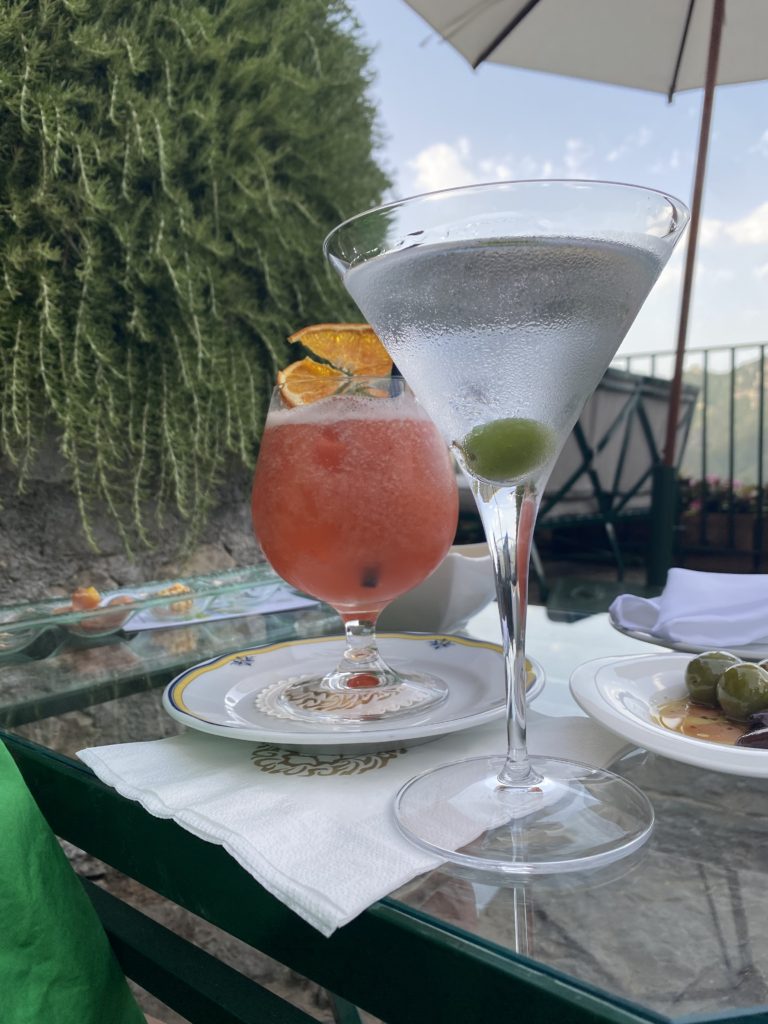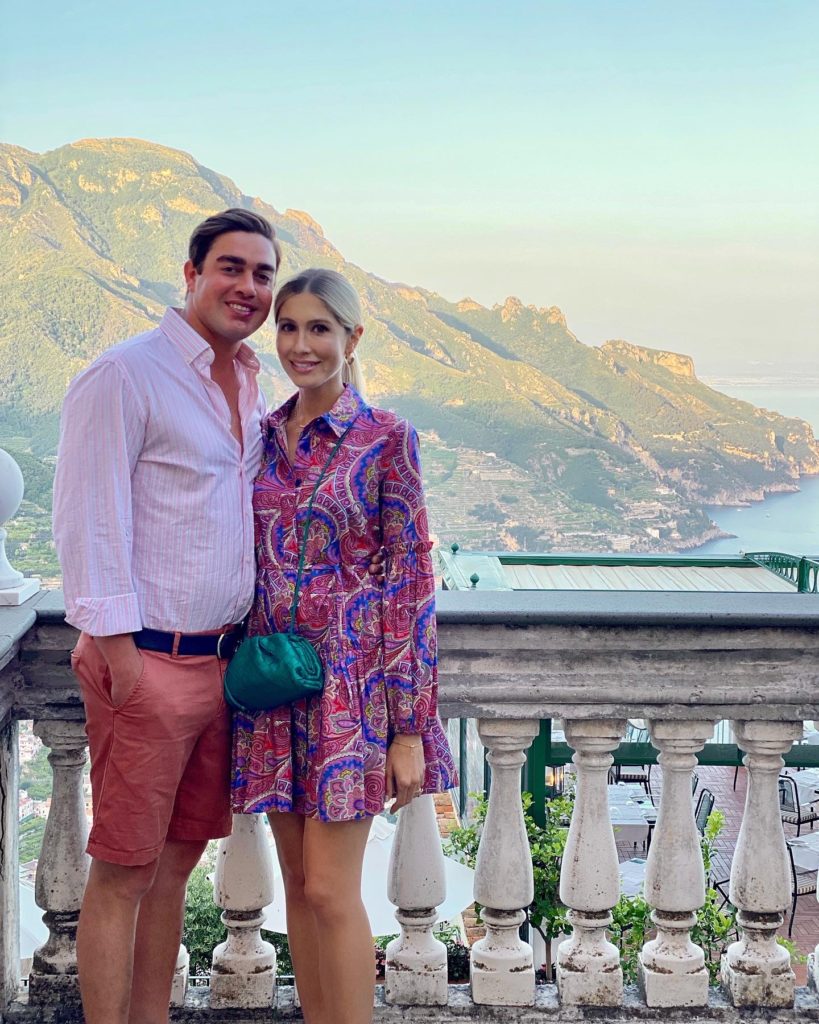 After spending 5 amazing nights in Ravello, we headed to the Amalfi port to meet up with the rest of Bryce's family on their boat. We spent 5 more incredible nights in Italy going to Capri and Positano and it was magical. Our itinerary was perfect. We slept on the boat so every morning we would wake up and have breakfast and then lounge until lunch. All lunches were off of the boat in town and so much fun. We would usually come back to the boat after lunch and either play games or just lounge on the water until getting ready for dinner. One day we swam in the blue grotto which is a must see when visiting. Most nights we had dinner on the boat and every day was just perfect.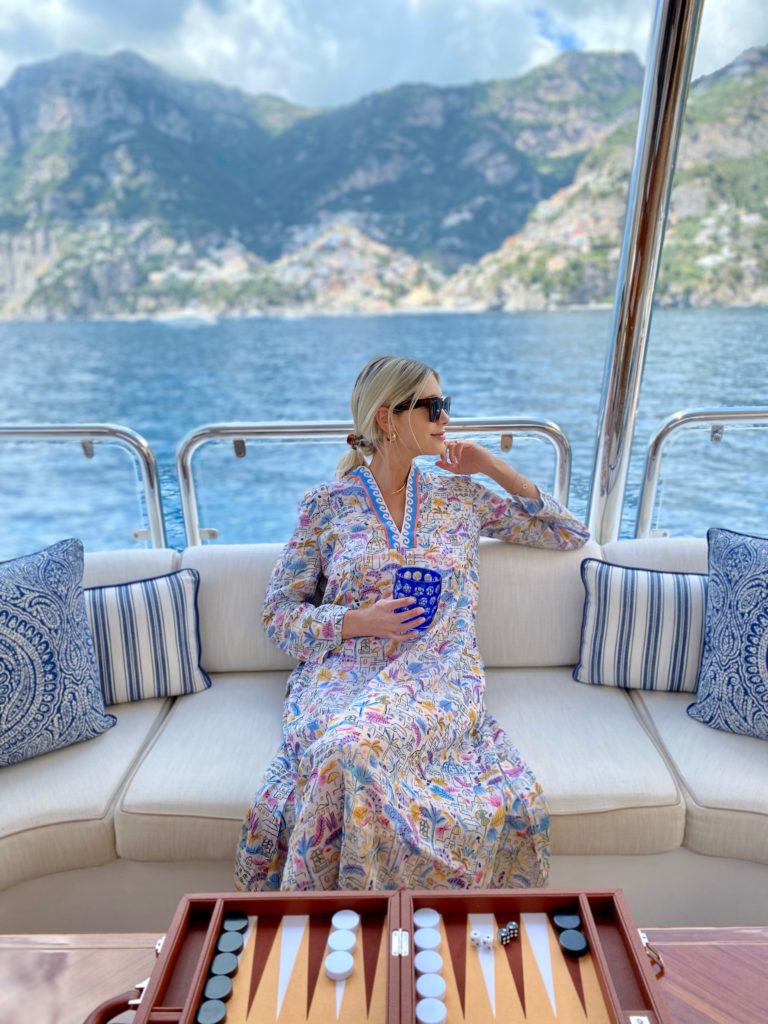 STAY
On this portion of the trip we went to Capri and Positano and stayed on my in-laws boat. We had the best time and it was so much fun to spend a few days in two beautiful places.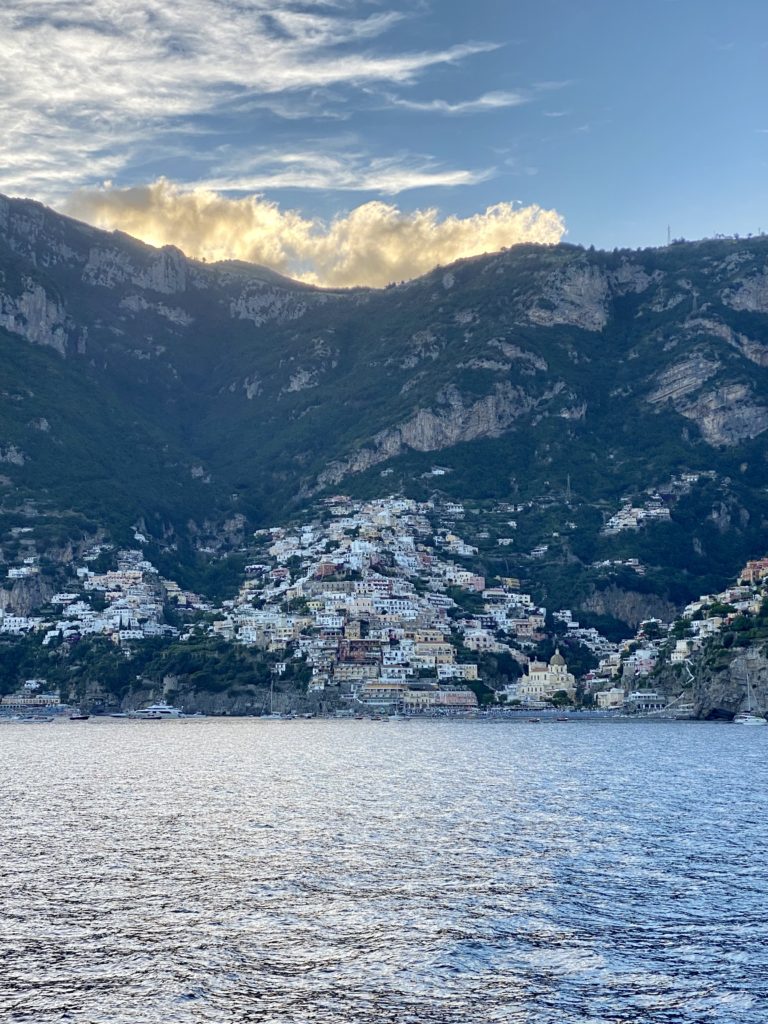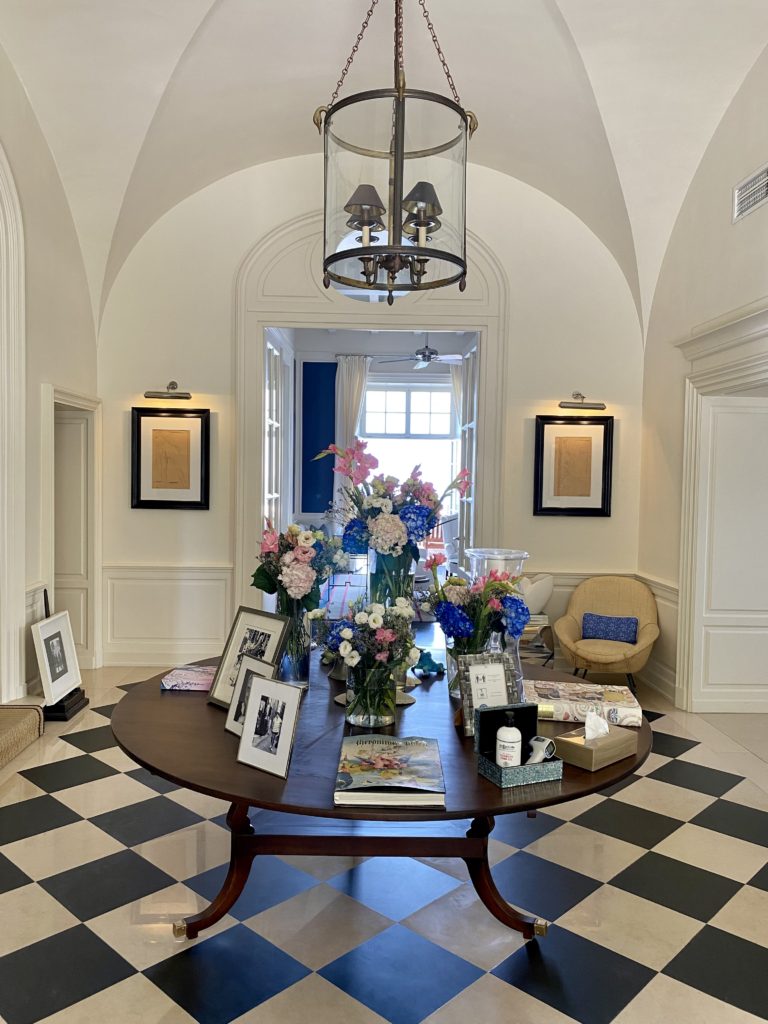 EAT
J.K Place Capri– On our first day we had lunch at this beautiful hotel. It has stunning sea views and incredible food. I had a club sandwich and it was amazing. If you need a great place to stay in Capri, I would highly suggest this hotel.
La Fontelina– This is such an iconic spot with the blue and white umbrellas and it never disappoints. The food and crowd is always great and it might be my favorite lunch spot in Capri.
Da Adolfo– This is the coolest casual spot in the sand in Positano that has such a fun vibe and is always a good time. If you are local in Newport Beach it has a similar vibe to The Crab Cooker but is the Italian version.
Aurora– This is right in town in Capri and has amazing pizza and eggplant parmesan! We had lunch here one day in between shopping and the food was excellent.
La Conca Del Sogno– This is by far the most fun restaurant located in Nerano Bay and it is not only a beautiful monochromatic restaurant but the food is great and they have a party element to them. At the end of the meal, you must order the sgroppino cocktail which they make table side using chilled Prosecco, vodka, lemon sorbet, and fresh mint.
Ristorante Da Paolino– We had dinner off of the boat one night and this restaurant is such a treat. It is covered in mature lemon trees which makes for such a beautiful setting. They also have a dessert room and any restaurant that dedicates an entire room to dessert is a friend of mine.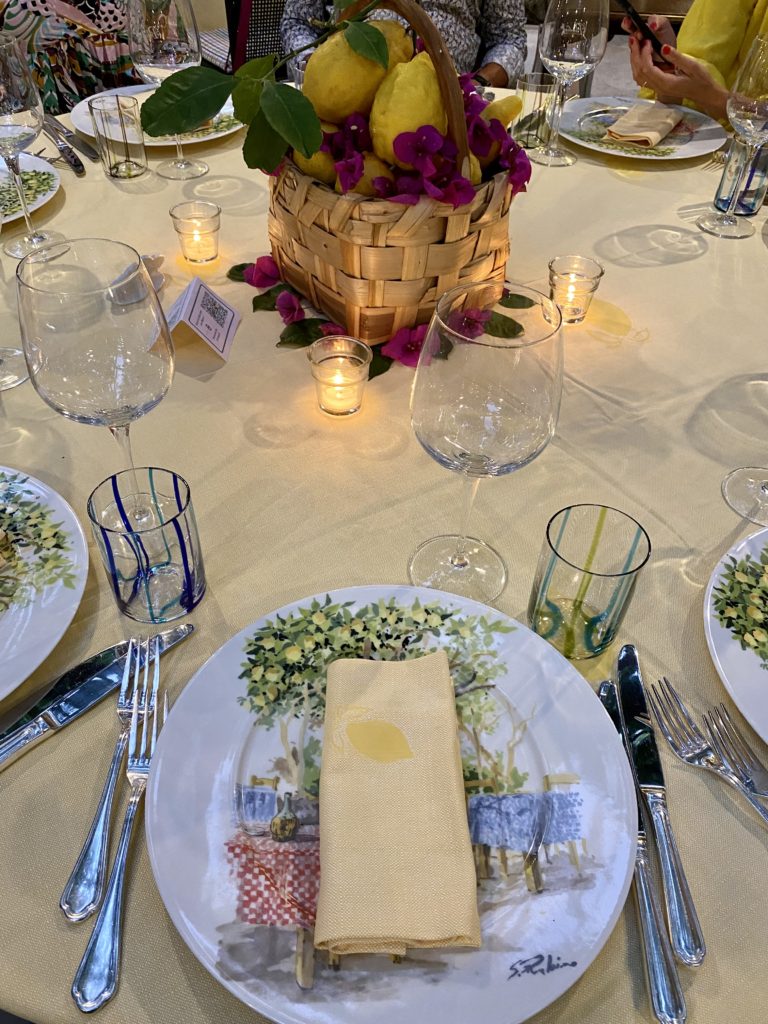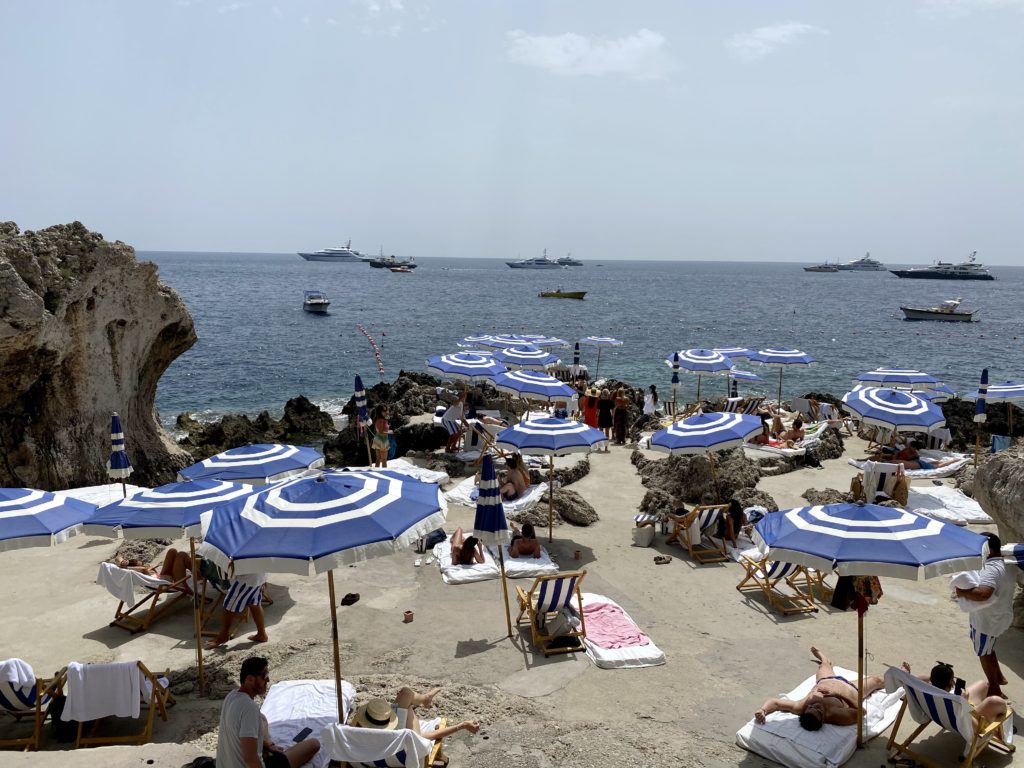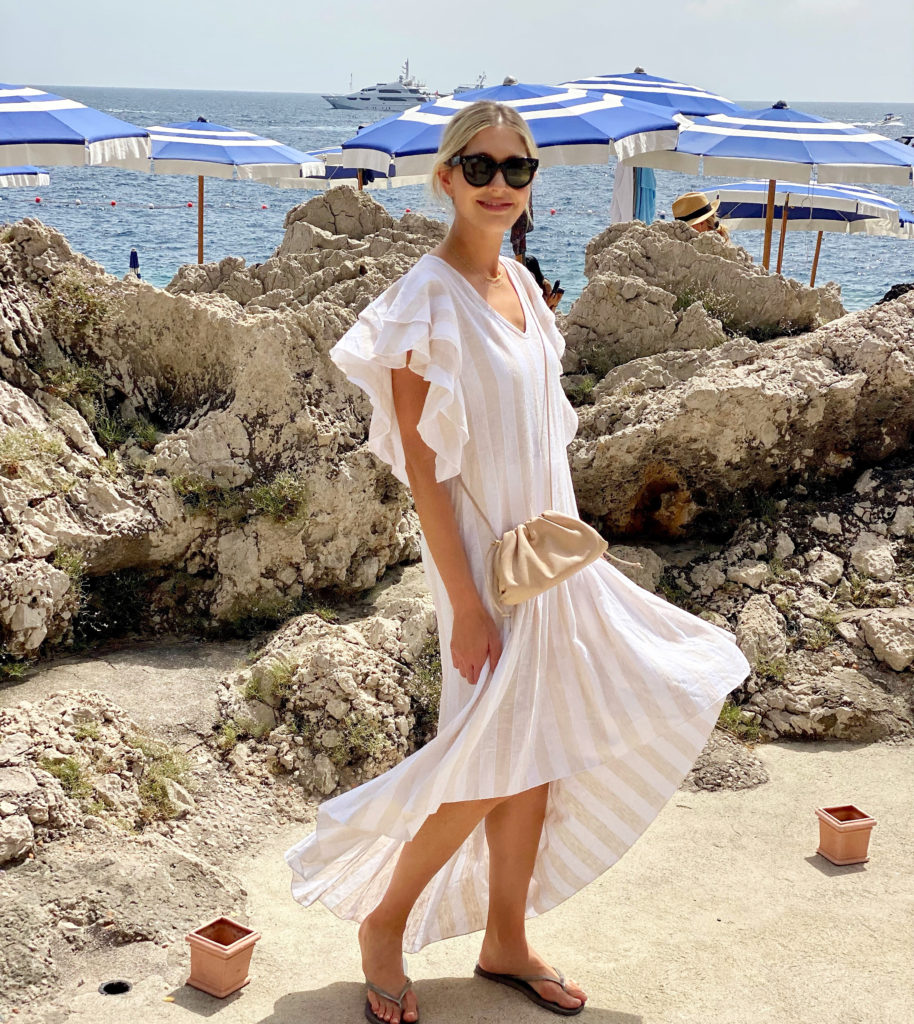 DO
We spent our days in Capri and Positano shopping in town. There is a great custom sandal maker in Capri called Da Costanzo Capri as well as the coolest boutique called Laboratorio where all of the pieces are so special and hand sewn. In Positano I love the boutique at Le Sirenuse. They have the cutest coverups and I always end up leaving with at least one and possibly a candle or two.