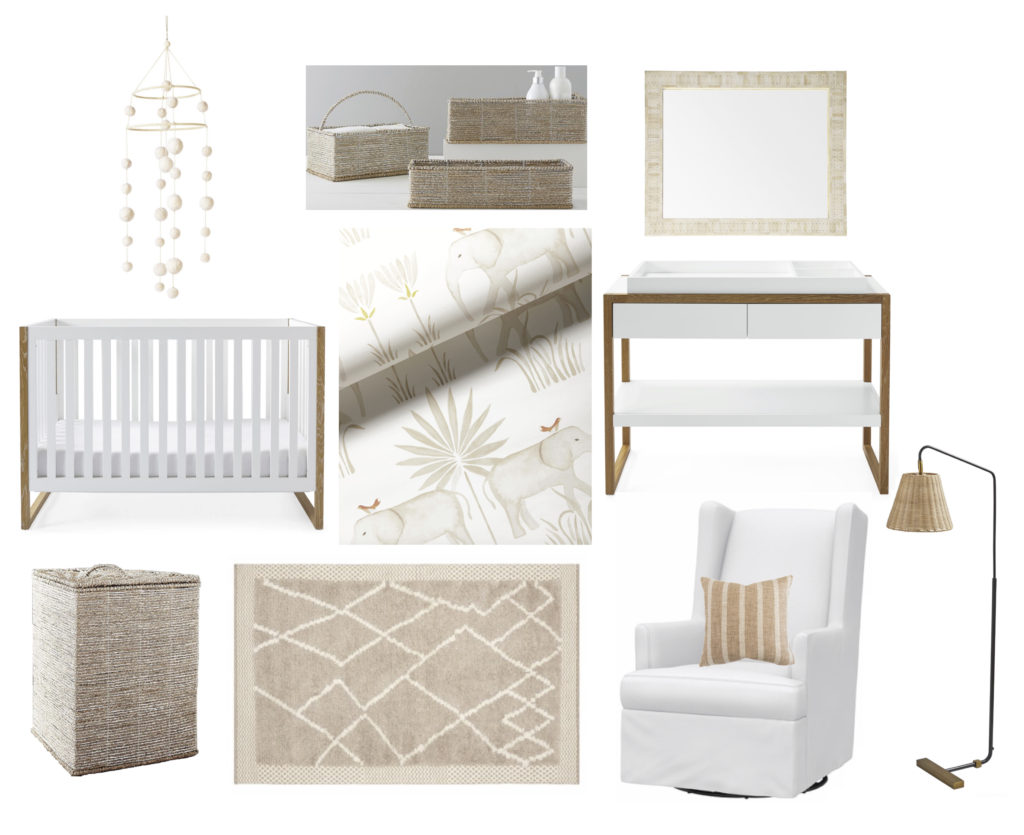 Crib | Changing Table | Mobile | Wallpaper | Chair | Pillow | Floor Lamp | Hamper | Storage Bins | Mirror | Rug
Happy Friday!! I thought that this was a perfect time for me to introduce more home posts on the blog since we are all staying home currently. It is a great time to redesign rooms or just move things around to make them feel fresh. Today I am sharing my guide to designing a gender neutral nursery. I am going to incorporate more interior design on the blog starting with one post a week and would love to know what types of rooms you would like to see more of. Make sure to let me know in the comments section. Also, I am only using items that can be easily purchased online to recreate each look. Several of these items are currently on sale so it is a great time to buy home items for a discounted price.
I thought I would start with a nursery because most of our friends are pregnant or just had babies recently and it seemed like a great way to begin. I am a huge fan of neutrals when it comes to home design because they are timeless and you never tire of a muted palette. It is also a great way to design a nursery in advance if you are waiting to find out the gender of your baby or just want something that could work for a boy or girl or even multiple kids! This is also a great canvas to swap out a pillow or art with a little color if you should decide to have it lean to one gender or another and it's so convenient when everything can mix and match easily.
One thing I loved about the crib I selected is that it is a great investment piece. It can be adjusted to be a bed and grows with your child which makes it have added value. I also love the changing table because it has storage drawers and also space for some cute storage baskets that can add a fun detail and look while also being functional. I also picked a matching hamper which ties in perfectly with the baskets! This rug is also a great value. It adds texture to the room and is a great color that will wear well with use. The mobile above the crib is so minimal and chic. I absolutely love it and it adds the sweetest touch. A good accent wall is a must especially in a nursery and think that this whimsical elephant print is perfect for the space. I decided on a mirror over the changing table rather than art because the wallpaper is already busy enough and a mirror just adds a little finishing touch to the space without feeling overpowering. The wingback chair and throw pillow is ideal for a corner in the room along with the floor lamp and makes for a finished corner space and allows additional light. I also love that the chair has a slipcover so it is easy to wash and keep clean. I didn't show this but I would also add a greenery element like a small tree in the room because I am a big fan of plants in the home. I am personally trying to have more of a green thumb but that is a work in progress.
Have a wonderful weekend! Hope you are staying safe and healthy. xoxo