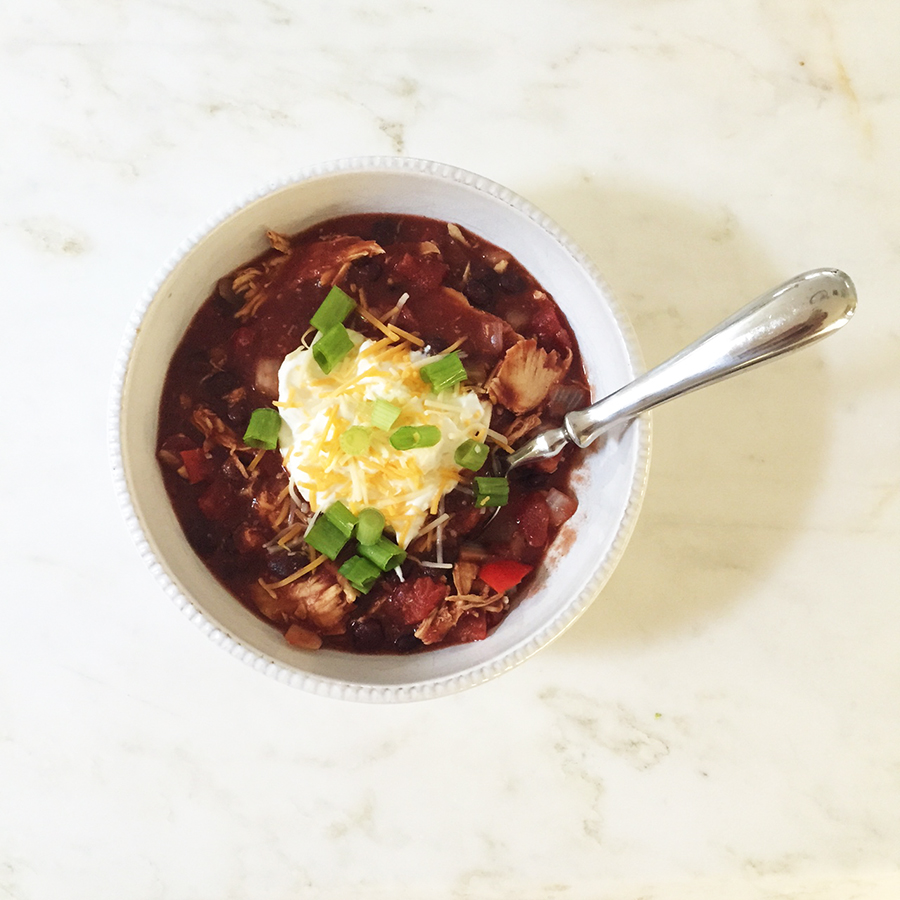 Happy Thursday!  If there is one thing I have been experimenting with lately, it's cooking a few days a week!  I recently decided that I was going to eat healthy-ish Sunday through Wednesday, and then the rest of the week can be a "whatever comes my way" kind of deal, meaning if I want a cheeseburger, I will most definitely be eating one.  That being said, cooking a couple times a week has its perks, like discovering new recipes, such as this easy chicken chili!  My girlfriend and I made this over the weekend, while attempting to watch the new Unauthorized Full House story.  Needless to say, the chili turned out amazingly delicious, and the Full House story definitely brought back childhood memories…
Slow-Cooker Chicken Chili
Total time:
6 hours 10 mins
This warm-you-through and fill-you-up chili is full of delicious, hearty protein-packed beans, and yummy shredded chicken that makes for the perfect bowl of chili.
Ingredients
1½ lbs boneless, skinless chicken breast
1 (15 oz can) black beans, not drained
1 (15 oz can) kidney beans, not drained
1 (8oz can) Tomato Paste
1 (15 oz can) diced tomatoes
1 cup onion, chopped
1 red bell pepper, chopped
2 cloves garlic, finely minced
½ tbsp chili powder
½ tbsp cumin
1/2 tbsp cinnamon
salt, pepper, red pepper flakes to taste
Toppings
sour cream
tortilla chips
chopped green onions
shredded cheddar cheese
Instructions
Place the chicken in the crockpot. Layer in the beans, tomatoes, veggies, garlic, and seasoning and cook on low for 6-8 hours.
Remove the chicken with a slotted spoon and shred the chicken with two forks. Return the chicken to the crockpot and stir the chili to combine everything. Serve with all your favorite toppings. Store leftovers in an airtight container in the fridge for up to 10 days.